ISurBlock™ Solutions for Handling
ISurBlock™ Solutions for Handling
Use ISurBlock solution to reduce

sample

l

oss

to

c

ontainers – p

retreat assay vials

and

enjoy much more manageable samples
ISurBlock prevents adsorption of proteins to surfaces.  This means that samples will not stick to your vial, particles will not agglomerate to each other or stick to a vial wall, and that sample handling is improved. ISurBlock solution does not interfere with assays or analysis because it is totally synthetic (non-animal) and highly reproducible.  It is easy to apply – simply pipet in the aqueous ISurBlock solution and incubate for 15 minutes, then rinse.  Applying ISurBlock minimizes incidental loses of sample during transfer and handling. 
Applications: Blocking treatment for assay vials, tubes, plates, and particles.  Any surface that suffers from non-specific protein adsorption can be improved by blocking with ISurBlock.
These products may have limited availability. Please contact us for pricing and availability!
Fully Synthetic, Anti-Stick Surface Treatment
ISurBlock prevents sample loss to container walls and improves handling against unwanted adsorption of and act as as a chemically functionalized platform for immobilizing assay components such as capture antibodies
ISurBlock reduces sample loss to containers.  Pretreat assay vials with ISurBlock, and enjoy much more manageable samples. 
ISurBlock solution can be applied as a short blocking step to vials. This simple application prevents subsequent adsorption of proteins from solution to container walls. Here, 1.5-ml polypropylene microvials received 0.25 ml ISurBlock solution (or BSA, or blank PBS), were tumbled at RT for 1 hr, washed x3 with PBS with vortexing, and then tumbled again with a solution of peroxidase
The treatments left to right are: BSA, ISurBlock sample 1 and ISurBlock sample 2, plain PBS.* The strong color development in the uncoated vial on the far right is due to adsorbed peroxidase, and the reduction of color in the others is a reflection of their respective treatments' ability to prevent such protein adsorption.
*The vials were exposed to HRP solution for 1hr at room temp after the various treatments.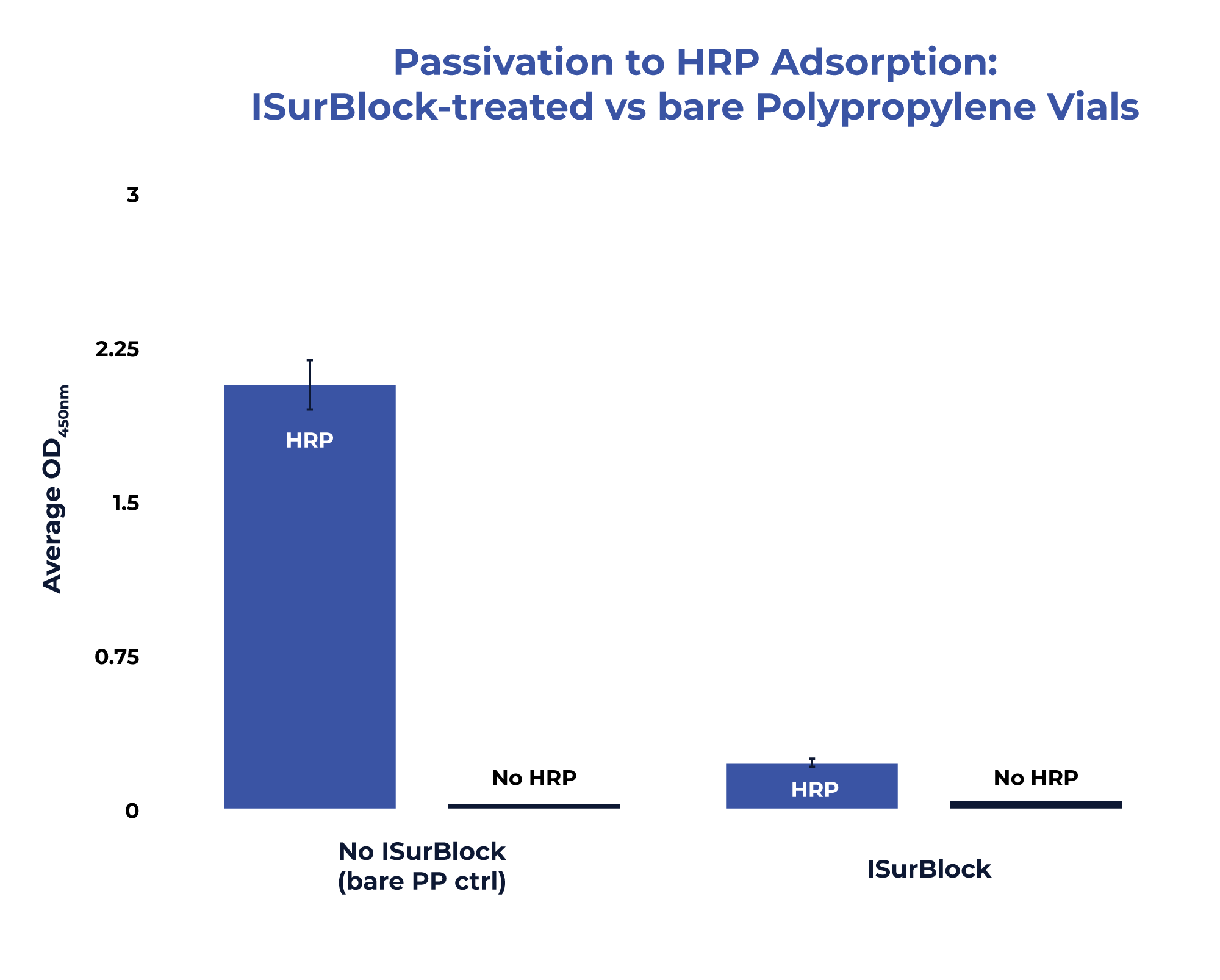 ISurBlock significantly reduces unwanted protein adsorption to exposed surfaces.
Paramagnetic particles (PMPs) treated with ISurBlock will not stick to their container or to one another. They pellet more neatly and can essentially be entirely removed from the vial, facilitating washing and minimizing sample losses during handling.

ISurTec is a technology innovator with a deep passion for identifying, creating and commercializing new methods and products that enable companies to fulfill their mission.
CONTACT
Innovative Surface Technologies, Inc.
1045 Westgate Drive Suite 100
Saint Paul, MN 55114
651-209-9757