Testing Hydrophilic Coatings
Testing Hydrophilic Coatings
Performance testing hydrophilic coatings will ultimately be based on your requirements but will always involve testing for lubricity (slipperiness) and durability. When wet you can feel the difference the lubricious hydrophilic coating makes. The ISurGlide hydrophilic coating swells with water, increasing up to 3-10 times its size, and the hydrophilic coating will slide easily between your fingertips without sloughing off.
Specialized equipment is usually required for testing lubricious hydrophilic coatings. This type of equipment may be purchased from our preferred partner Harland Medical, or you may use our services for your testing needs. If you're testing an invasive medical device with a lubricious coating, we have a unique and proprietary tortuous path test created specifically for these scenarios that allows testing of durability and particulate.
Testing Durability and Lubricity
We test lubricity by measuring the force required to pull a wet coating through silicone pads that pinch the coated device. A normal force is applied to the pads, and as the device is pulled up through the pinched pads, the friction force is measured. This test is an industry standard for simulating tissue contact. The coefficient of friction of a coating is one common measure of a coating's lubricity. Testing a coating's friction over multiple cycles of this pinch tests gives information on the coating's durability. If the coating is not bonded well to a device, frictional forces increase rapidly.

ISurGlide's COF is consistently <0.05, usually 0.02 – 0.03.  An uncoated device has a COF > 1.0 typically.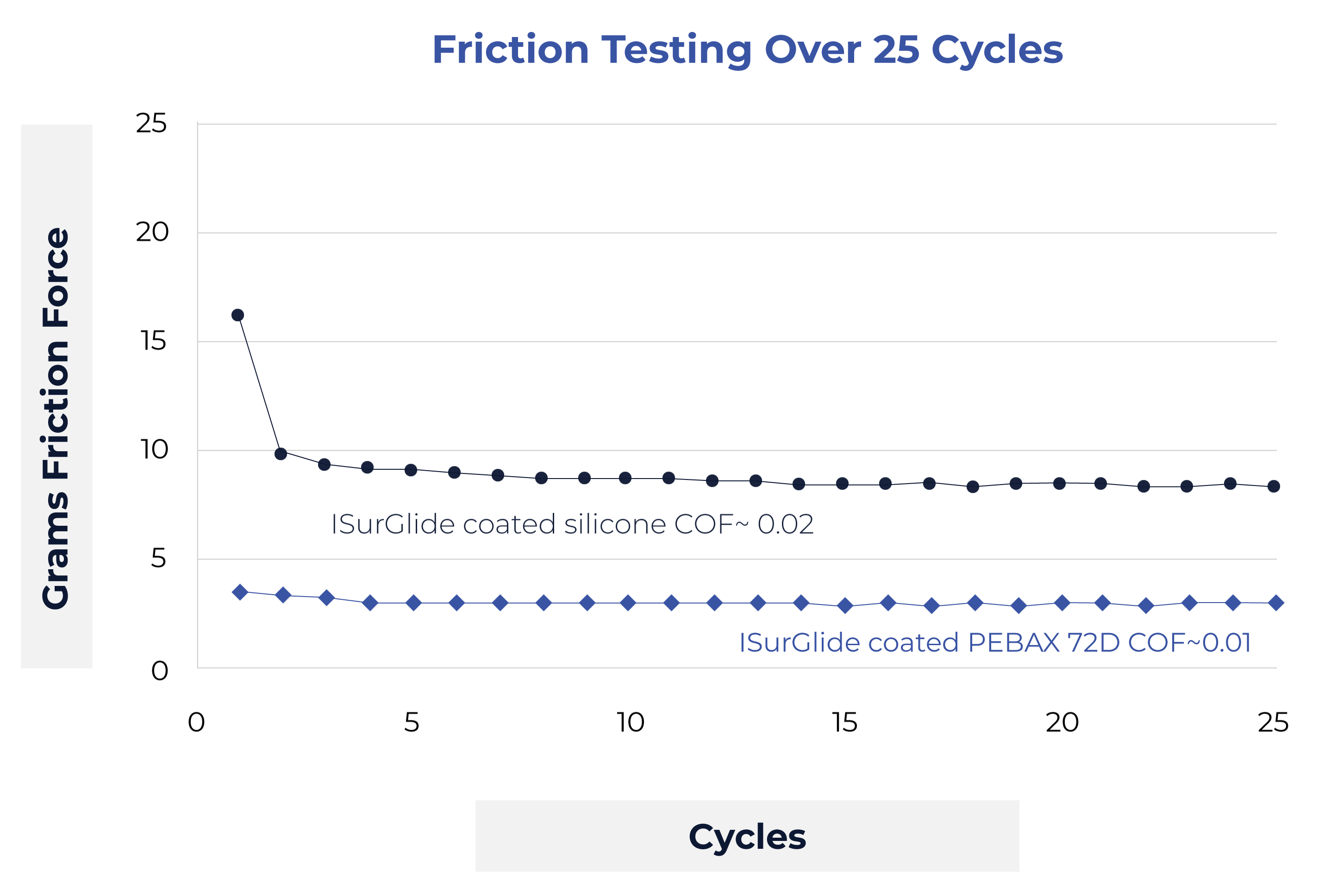 ISurTec is a technology innovator with a deep passion for identifying, creating and commercializing new methods and products that enable companies to fulfill their mission.
CONTACT
Innovative Surface Technologies, Inc.
1045 Westgate Drive Suite 100
Saint Paul, MN 55114
651-209-9757