ISurTec was founded in 2004 by Dr. Patrick Guire, experienced entrepreneur, and his team of fellow scientists. Our research was, and continues to be, wide-ranging in applications but focused on the surface interface of a solid with water and biological fluids. Along the way, our science has been supported through the Small Business Innovative Research (SBIR) program at the National Institutes of Health and the National Science Foundation.
Initially, the scientific team developed surface coatings to control whether water spreads out when contacting a surface (hydrophilicity) or forms a tight ball that dances off the surface (superhydrophobicity). From that early research, ISurTec's line of hydrophilic ISurGlide coatings for medical devices was born. ISurGlide coatings swell with water to give a slippery feel, allowing the ISurGlide-coated device to travel through the vasculature more easily than uncoated devices can. ISurGlide was first commercialized in 2007, followed by the PhotoPrime family of primers in 2009. ISurGlide solution can be used by itself or with PhotoPrime primer to improve the surface adhesion to various medical devices.

ISurTec manufactures medical device coatings and continues to develop innovative coatings to highlight other surface properties. Our current research centers on surfaces that resist protein adhesion, that match the topography of various tissues or that degrade with time. We enjoy collaborating with other companies and universities. Please contact us for more information!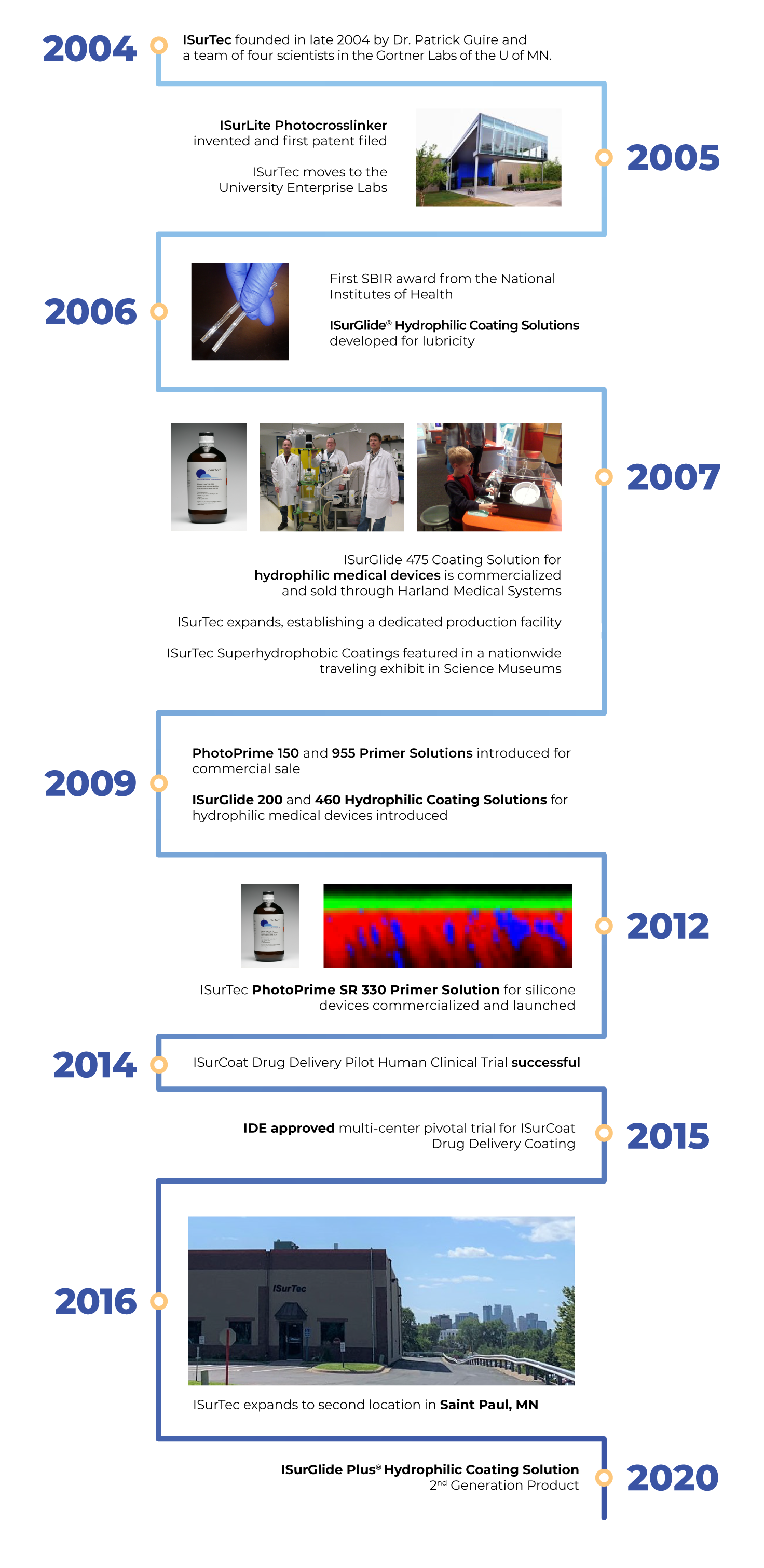 ISurTec is a technology innovator with a deep passion for identifying, creating and commercializing new methods and products that enable companies to fulfill their mission.
CONTACT
Innovative Surface Technologies, Inc.
1045 Westgate Drive Suite 100
Saint Paul, MN 55114
651-209-9757